Have you been considering that it's time to ditch the tub in your bathroom? A recent AIA survey (PDF) shows that certain bathroom renovation trends favoring showers over bathtubs are growing in popularity. Curbless walk-in showers, doorless showers, and stall-only showers top the list of the most often requested renovations.
It makes sense to consider replacing a tub with a shower for a number of reasons. Showers use far less water than bathtubs, and save on associated energy and water costs for that reason. They're also usually quicker to use, and can be fitted with luxury features such as non-slip tiles and benches.
Also, showers are more "user-friendly" for an aging population. Tubs can be difficult for older adults and people with injuries or disabilities to get in and out of, whereas easy-entry shower stalls are much more accessible. As millions of Baby Boomers reach retirement age, these trends should only continue to rise in popularity.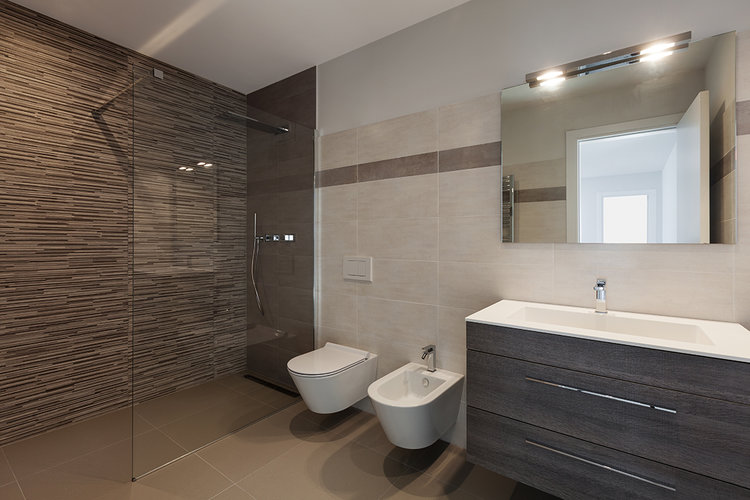 Deciding WheN TO DITCH THE TUB
Renovating your bathroom is a great home investment, but before you take the plunge and rip out that tub, give this decision some careful consideration.
First, consider use. How much use does your tub really get? If you have small children, tubs are much easier than stalls, of course. If you only have one bathroom available and your kids are under the age of 8, you might want to hold off on the project until they're older.
Most homeowners are also concerned about resale value before making substantial changes to bathrooms and kitchens, and that's wise. After all, your home is also an investment, and it's only prudent to avoid making changes that can lessen its value.
Tubs are just "expected" by some home buyers, and there's no getting around that. But the lack of a tub might not be a detriment to a later sale. It depends on your market and what buyers are willing to accept. In an area with a high demand for housing and a limited supply, a home that lacks a bathtub will still sell, all other things being equal.
One way to preserve your options in resale value is to keep one tub somewhere in the house. A shower-only house can be a tougher sale down the line. But if you have two or more bathrooms available, by all means exchange one of those tubs for a bigger and more luxurious shower stall.
Finally, look carefully at the cost. The least expensive options — shower stall kits — start at $200 but can rise in price dramatically, and that's before you hire a contractor, adjust your water lines, remove the tub, or modify surrounding flooring.
If you have the budget, we'd strongly encourage you to hire a licensed, experienced contractor, especially if you're planning to put in a curbless shower (as we discuss below). If you tackle this one on your own, expect to spend at least a full weekend at it.
How Big a Job Is It to Exchange a Tub for a Shower?
Simple one-to-one conversions — that is, taking out a tub and installing a shower stall in the same space — are fairly simple if you're working with a tub in a recessed alcove. Taking out a tub will leave a working space of approximately five feet in length and anywhere from 30 to 34 inches on average deep. That's more than adequate for a roomy shower stall. The water lines shouldn't need much adjustment, so the total project won't be terribly complex.
But if you've got a freestanding tub, or one located beneath a window (which isn't uncommon) you'll have a slightly tougher — and more expensive — job ahead of you. You may need to relocate water supply and main lines, and that could add several hundred dollars to the budget.
Space needs should be reviewed carefully. Modern building codes require a shower floor space, or shower pan, of at least 30 inches square, which should make the removed-tub space sufficient. But some industry standards suggest a minimum of at least 36 inches square, in which case you'll have some overage if you're working with a standard tub footprint.
You'll also need a height clearance of at least 80 inches, and at least 15" (preferably 18") of space should remain between the side of the toilet and the side of the shower wall. And, of course, if there's a swinging door entrance into the shower stall, you'll need to make sure it completely clears any possible obstructions such as cabinetry or fixtures.
What Kind of Shower?
One of those popular choices among homeowners who are ditching the tub and moving to shower-only baths is the walk-in shower. These designs offer both ease of use — especially for an aging homeowner — and a more modern, streamlined aesthetic that conveys a sense of luxury.
Another consideration in choosing to replace a tub with a shower is whether to select a stall with or without a curb.
Many stalls feature a curb — a "lip" usually constructed out of tile that protects the rest of the room's flooring by acting as a little dam for the water before it drains through the floor. A curbless shower stall uses a shower pan that's flush with the rest of the floor of the bathroom, without that lip.
While curbless stalls do look more modern and are definitely trending in popularity these days, they're also more difficult to install correctly, often requiring adjustments to the existing floor height and adding to the project cost.
So if you think you'd like the curbless option, review your options with your licensed contractor carefully, and seek their input and recommendations.