Powder rooms are to bathrooms what fascinators are to hats: small and showy, yet perfectly functional. Whether you love bold or minimalistic choices, take a look at our 6 quick tips for styling your powder room like a pro.
Half baths are one of our favorite rooms to design, since they provide the opportunity to go a little over the top. If you love flashy floors, saturated colors, conspicuous chandeliers, wild wallpaper, and animal print, and you want to put them all together, the powder room (or half bath as it is also called) is the place to do it. Not that we're necessarily recommending that – minimal and monochrome are fine too – but you get the idea.
Since entertaining season is around the corner (the holidays will be here sooner than you think!), now is a good time to start planning your powder room refresh. So where do you start?
Start with a statement sink
A half bath consists of just two fixtures: the toilet and the sink, so the sink should be a focal point. Since the average powder room is just 20 square feet, most people opt to forego a vanity in favor of a pedestal, or a ledge topped by a vessel sink. A vanity is not out of the question, however. Just make sure that it's a showstopper and does not overcrowd the space. Try a converted desk or chest of drawers into unique bathroom vanity.
Include touches of tile
And by touches, we mean tile everywhere. Floor to ceiling tile is a look we love. Not only is it visually stunning, it is also easy to clean. Since you're dealing with such a tiny space you can be a bit more adventurous with your finishes, and a bit more free with your budget. Need some ideas? You can go for the ultimate luxe look and clad the walls and floor in marble, add some sparkle with iridescent glass tile, or make the space feel larger by laying the tile out in a chevron pattern.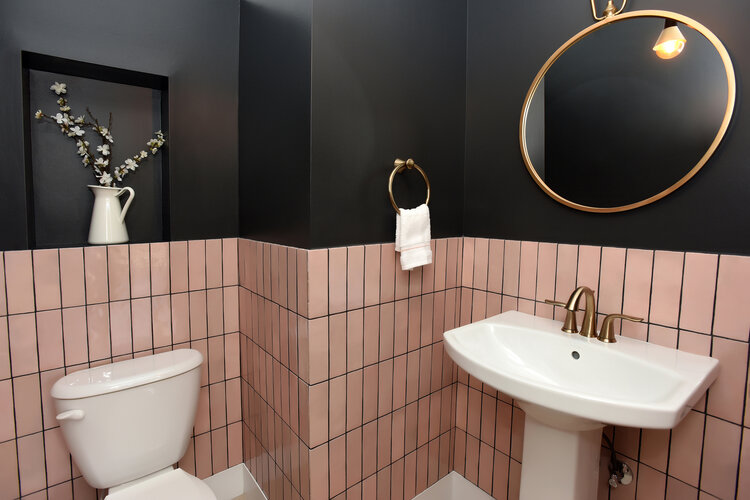 Layer in lighting
Many half baths are carved out of found space in a floor plan – created out of a closet, for example, or hidden under the stairs. For this reason they tend to have little to no natural light. Wall sconces and a chandelier will brighten up the space, make it functional, and add another layer of drama. If you can't handle a windowless room, and your layout allows, try installing a skylight. The room will be flooded with natural light for most of the day, which will make it feel larger and more comfortable.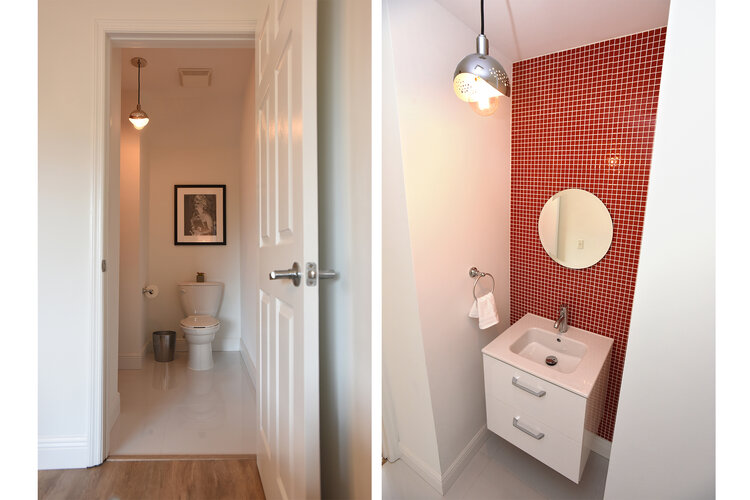 Maximize with mirrors
Nothing makes a room feel larger – and more dramatic – like mirrors. You will need one for over the sink. We recommend straying away from the standard medicine cabinet, and instead sourcing one that has unique etching, an interesting shape, or a vintage frame. If possible, incorporate a full length mirror as well, since this is the room that you and your guests will use to help you make sure you're presentable.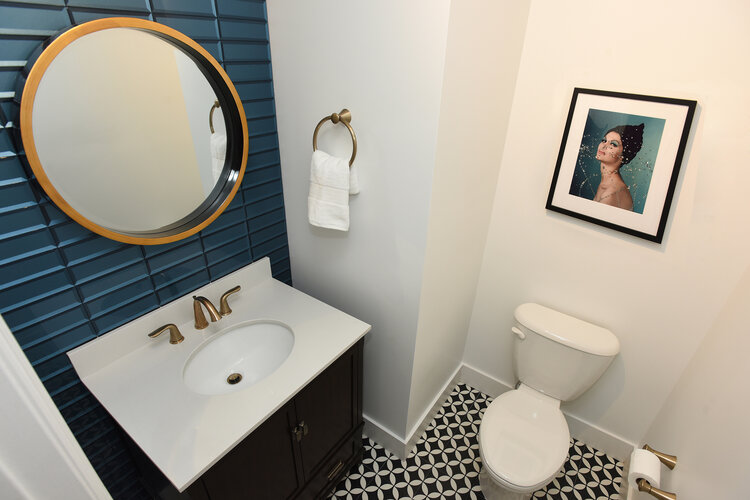 Add accents and accessories
Decorative accessories are the "extra" in the word extraordinary. Even if you "go basic" elsewhere in your home, the powder room is the place to kick everything up a notch. You'll need:
Luxurious linens – high-thread-count hand towels, monogrammed if possible.
Fine-milled soaps – subtly scented and generously proportioned.
Facial tissues – super-soft, and stored in a tissue holder.
Candles and/or aroma diffusers – make being in the powder room a multi-sensory experience.
Greenery – use faux florals if that is your preference, or try a few stalks of bamboo for a zen feel.
Canisters – store cotton pads, Q-tips, etc. in elegant containers.
Wastebasket – splurge on a beautiful one.
Art – Since unlike a full bath the powder room is not a wet room, a single statement piece or a gallery wall of your faves will be practical as well as beautiful.
Do it for the 'gram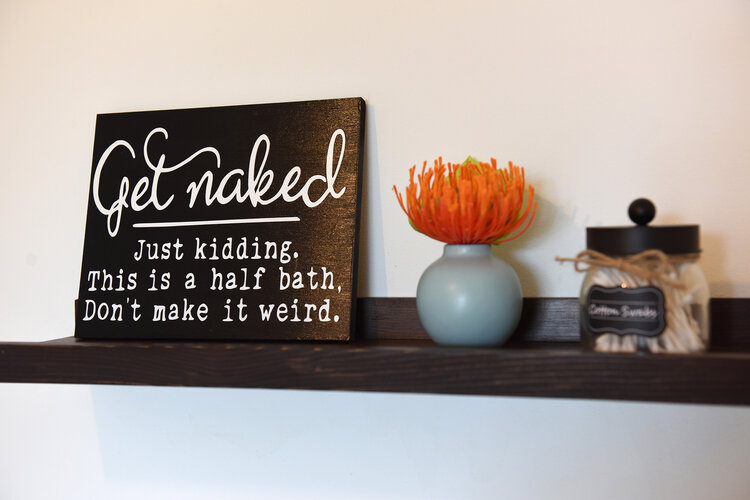 Optics are everything. Visualize your space as an "after" photo that could be featured on one of those popular interior design Instagram feeds. Commit to a color, a texture, a print, a design style, or a trend, and then weave it unapologetically throughout the room. If you're someone whose home is always full of guests, then make it gram-worthy, and ready to be featured in lots of bathroom selfies. Not into Instagram? That's ok. The key is to make the space beautiful and eye-catching for you.
One last thing: sight lines are important. If you're one of those people who leaves the bathroom door open between uses, and the room is visible from the rest of the house, make sure that the decor is not too visually disruptive.
Need some additional tips or expert advice? That's where we come in. We can help you design a new half bath from scratch, or remodel your existing one. Contact us today to get started.