Bathroom redesigns have a reputation for being super-expensive—and the rep is not without merit. Remodeling Magazine estimates that an upscale remodel costs, on average, $64,743.00, while the average cost for a midrange remodel is $20,420.00—numbers not for the faint of heart. $20K is still unaffordable for many people. If you're planning a design refresh for your bath, don't lose hope, though. Homeguide.com estimates that smaller bathroom remodels can cost as little as $2,500, a much more accessible price point.
Are you looking to redo your bath on a budget? We know all the tricks to help you get the look you want for less, and we're going to share them with you. We recently completed a budget-friendly design project for a client of ours, so we'll walk you through the steps of how we achieved the look they wanted at a price they loved—and how you can do it too.
Decisions, decisions
It all starts with making strategic choices about what to keep vs. what to replace. If you're working with a very lean budget – let's say $500 to $1000 – stick to cosmetic changes only. A new coat of paint, a couple of accessories, a thrifted mirror, and a new plant can make a huge difference for little financial outlay. One of our favorite ways to give any space a new look for a few (or even zero) dollars? Clean or change your light bulbs! Wipe them off to remove any accumulated dust, or better yet, increase the wattage—once it's safe, of course. Simply moving from 40W to 60W can give your space a super-easy facelift.
WHAT WE KEPT
Ok so let's get down to the nitty gritty. Here's a list of the items that we kept in order to make our budget stretch further.
Toilet
Let's be honest: a WC is what it is. The only real requirements are that it be functional and leak-free—and that's all. Anything beyond that is a nice-to-have. Our client's toilet was in like-new condition, so we were able to save money by not switching it out.
Tub
Their tub is in great condition, and fit into the aesthetic of the new design, so we opted to keep it as well. Plain white standard tubs get a bad rap in today's "overdesigned" culture, but we actually love them because of their versatility. Every item in a space can't be a superstar, or it can quickly start to look chaotic. Considering that the average cost to install a tub is approximately $2,000 – which does not include the cost of the tub itself – this was a big win for cost savings.
Tiles
The tub surround was decorated with standard 6 inch tile in a subdued bisque tone, which means that it was neutral enough to blend easily with any design changes. Like the main fixtures in the space, the tile was in mint condition, and therefore provided another opportunity to save big.
WHAT WE CHANGED
Fixtures
Hands down, changing the hardware on your sink is the most cost-effective way to update your bathroom. Every room needs a touch of black, so we switched the faucets and shower-head from standard-issue chrome to elegant oil-rubbed bronze.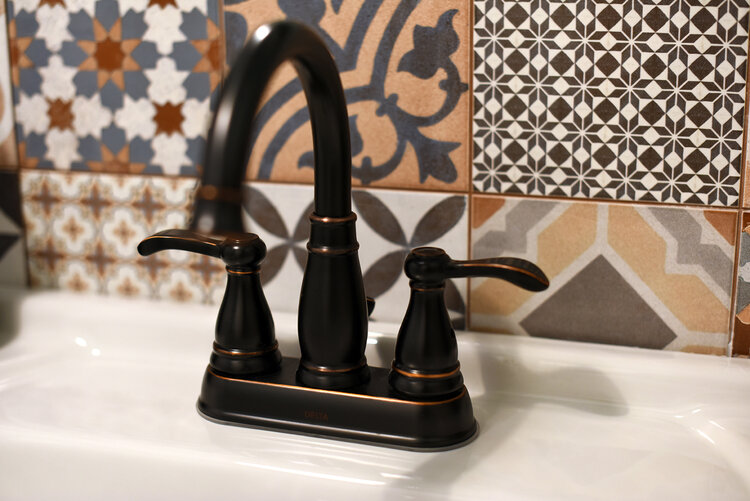 Paint
There's nothing like a fresh paint job to update a space, and it's also very cost-effective. You save even more if you put in the elbow grease and do the painting yourself. For our Farmhouse theme, we went with "Watery" by Behr.
Tip: When considering where to paint, look beyond the walls! You can drastically change the look of the room by painting the ceiling and/or floor.
Vanity & Sink
These can be pricey, but we were able to source a vanity/sink combo that was budget friendly as well as elegant. The sink is generously sized and has a cottage/farmhouse feel, plus there is ample storage in the vanity below.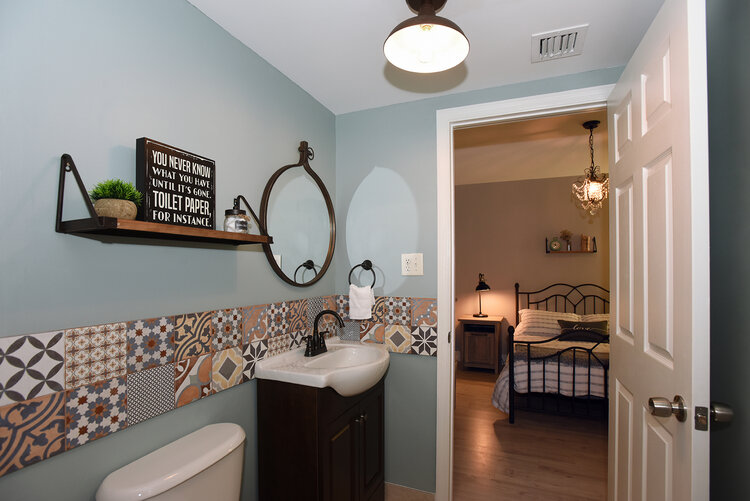 Hardware
Amazon always comes through, especially if you're on a budget. We updated the existing hardware with a 5-piece oil-rubbed bronze set that included a towel ring, toilet paper holder, 18-inch towel bar, 24-inch towel bar, and robe hook. Best of all, it was all under $40.
Mirror
If your bathroom is an outfit, the mirror is the statement accessory. We turned to Amazon again, and found the perfect one for under $100. The slightly distressed bronze finish coordinates with the hardware in the room without being too matchy-matchy.
Backsplash
Tile can be expensive, so limiting the amount that you use to a confined area is a smart way to refresh your space on a budget. We installed a new tile backsplash that includes the blues, browns, whites, and other tones found throughout the space.
Lighting
Completely replacing all the lighting would have been more than our client's budget could handle, so we narrowed our focus. We installed a new ceiling light fixture (and yes, a brighter bulb) and left the task lighting as-is.
Shower Curtain
When in doubt, use fabric! It's cheap (or it can be), showy, and voluminous. We got a new shower curtain in a plain white fabric, but its layers of tiers added interest and texture. Amazon to the rescue again, for under $20.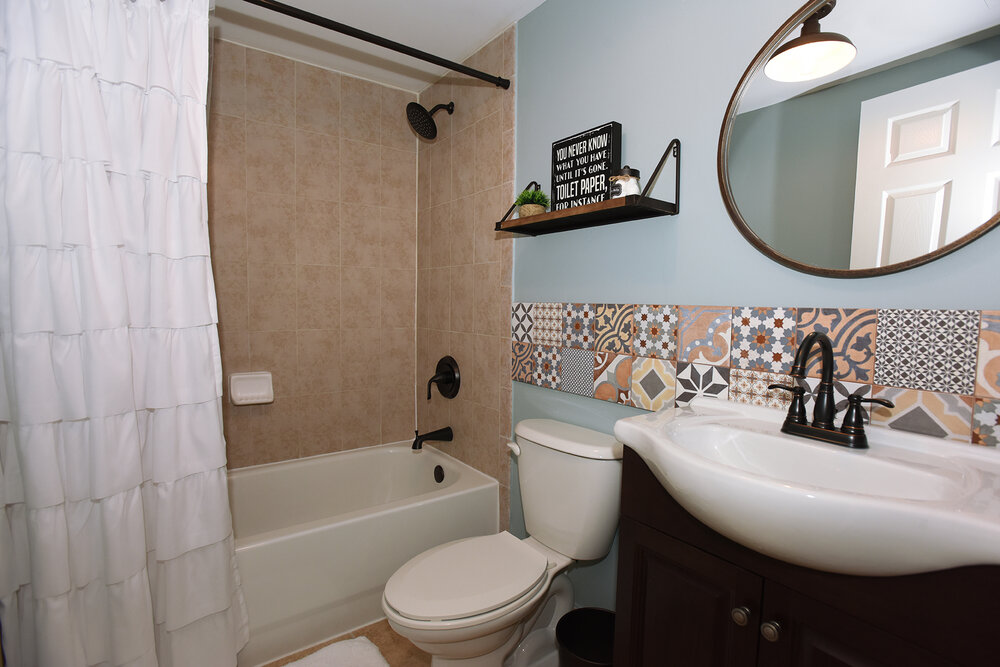 See? It can be done! We hope these tips help you to design the bath of your dreams—and keep costs under control. If you'd like some more pointers, or if you prefer to leave it to the pros, feel free to contact us. We'd be happy to discuss your vision for your space, and provide you with a free estimate.