In this ever-changing world, workplace flexibility is something that's here to stay. The trend had already started gaining popularity before the COVID-19 crisis, as more workers were already given the option to work from home, for at least several days a week. This created a need for workers to transform an area of their home into a home office. The need is even more pressing now.
Whether you're a work-from-home veteran or just started, consider these basic home office remodeling tips to make the most out of your space.
Locating the Ideal Space for Your Home Office
The primary goal is to find a space that has few household distractions. Of course, a separate room is ideal for a home office. The ability to close a door at the end of the workday is best. It maximizes privacy and serenity, and lends the feeling of leaving work at the end of the day, which has positive psychological effects – it allows you to disconnect.
If your home and budget permit, you might consider adding a separate entrance to your home office from the outside to really capitalize on the feeling of going to and from the office. This is obviously a task that you probably wouldn't want to undertake on your own and will most likely require you to hire a contractor to do the job.
Not everyone has the luxury of having a separate space, so some of you need to think more creatively if you're short on space. There are many ways to distinguish and optimize your home office space even if you don't have an extra room, a consultation with an interior designer will help you to get on the right track.
Boost Your Productivity with Color
Color can help you virtually separate your office space and has other benefits as well. Color and its brightness are a matter of personal preference. Now that this home office space is all yours, it's time to personalize it to optimize performance. So, consider color carefully when you select paint and accents.
Interestingly, most experts agree that blue is the best color for productivity. It calms your mind, which helps you concentrate and stay focused.
These colors can also help give you a boost.
Yellow energizes, enhances creativity and mood.
Green is balancing and creates calm.
White is ideal for a smaller space as it makes it feel larger and brighter.
And you creative types may want to do something a little different with your walls. Perhaps a chalkboard wall or section will take that ingenious mind of yours to the next level.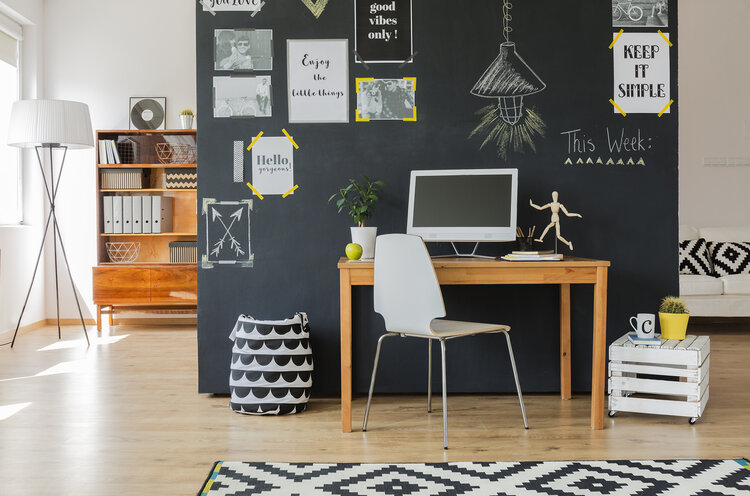 The Proper Lighting Will Make You Shine
Lighting can improve productivity and make you feel better according to this WorkDesign Magazine article and other studies.
When it comes to lighting for your home office, you can't beat mother nature – natural lighting is best. It increases alertness and helps optimize brain function. Who doesn't want that when they're working? It also improves physical and mental health.
Therefore, finding a space with windows, allowing natural lighting to come in, is optimal. Being close to a window that opens to the outdoors also allows you to get some fresh air throughout the day, which also enhances your wellbeing. Another benefit of a window in your home office space is that it offers a view, which can help you de-stress during the workday.
If you don't have a space with natural lighting, you can add energy efficient lamps and directional lighting. Budget and structure permitting, you can add a window and/or a skylight.
Choose Your Desk, Chair and other furnishings for Comfort, Style and Functionality
Whether you choose modern, minimalist furniture or go the traditional route, make sure you fulfill storage needs. The goal is to have a clean, uncluttered work environment.
Desk – Your desk should be large enough so that you can spread out when working on multiple projects simultaneously or as needed in the normal course of your workday. You don't have to break the bank for a desk. There are many good, economical options available.
Chair – Your office chair is an item on which you don't want to penny pinch, but you can find some deals too. Consider how many hours you spend sitting at your desk during your workday. Healthy posture is critical to your comfort; an ergonomic chair promotes health and productivity. Your office chair should be sturdy; have good lumbar support; a long back with a headrest and height adjustment. A mesh back will keep you cooler during those long days. You can find a good, economical one at ikea.
Office desks and chairs have come a long way. Adjustable standing desks are a great option for those who prefer not to sit at their desk all day. Stability balls are another seating option that is becoming more prevalent. They enhance posture, balance and core strength and can be used periodically throughout the day to break the monotony of sitting in an office chair for extended periods of time.
Storage – Choose a storage system for files, equipment and other items that flows with your home office decor and helps create a clutter-free work environment.
Get the Right Tools for Your Trade
Don't overlook the basics when setting up your home office.
You don't want to wait forever to upload or download large files. Make sure that you have a fast, reliable internet connection.
It's critical to have backup for your power and your data. Get a backup power source and external hard drive so that your files are backed up periodically. If you don't want to purchase a hard drive, you can also backup data in the cloud with services such as Google Drive and iCloud.
An additional monitor is great for multitasking and allows you to see the full scope of projects you're working on.
A scanner and printer are a must. You can find all-in-one machines that include scanner, printer and fax; does anyone use a fax anymore? Some professionals still do and need them.
Remember that not everything is electronic. You will always need tangible notes. Always include the basics like pen and paper. Physical office supplies make the space feel more like an office and less like a home.
Include Final Touches that Make it Your Own
Including some aspects of home design in your home office will help you think more creatively, make you more productive, reduce stress and reduce feelings of loneliness.
Adding a sound system with music of your choice can make you more productive.
House plants bring nature indoors and also help you think more creatively.
Artwork and /or framed quotes should inspire you.
Essential oil diffusers are being used more in offices to reduce stress.
Lastly, add finishes that you like, for example, gold finishes in your chair and/or desk accessories for that glam touch – have fun with this and make it your own!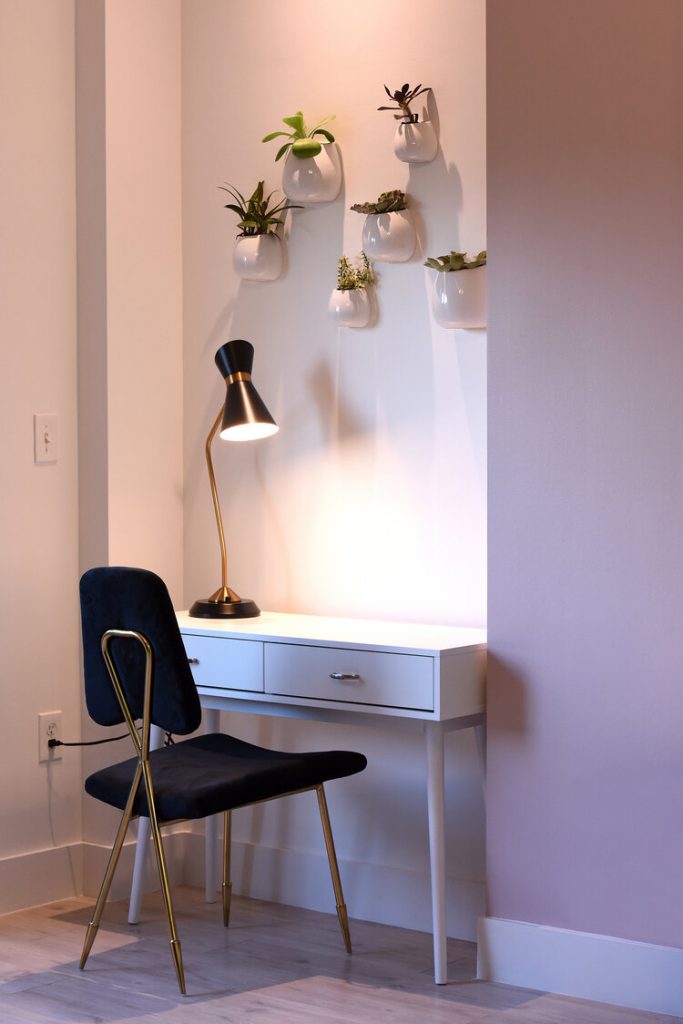 Now that you have these practical tips, go ahead and start making your home office space the ideal place for you to excel in your job. Besides, don't you want a really cool space that impresses your coworkers during all those Zoom meetings?